Don't swipe up! Don't swipe down! 4 reasons we carry cash
You've probably heard King Bach's rule "don't swipe left, don't swipe right" when looking at pictures on someone else's cell phone. Well, in the Darko household, we have a rule… don't swipe up, don't swipe down! Instead of using a debit or credit card, for many of our purchases, we use cash . Here's 4 reasons we carry cash:
We can't spend what we don't have. When the cash runs out, we can't make anymore purchases. Using a credit card could make it easier to purchase on credit. If we have to buy on credit, it's because we don't have the money to spend out right. Carrying cash completely eliminates the issue of overspending.
It keeps us true to our budget. Once the cash is withdrawn from the ATM, we know exactly what the money is for. The withdrawal is never random and we only withdraw what we set in our budget. Before we were ever on a budget, we would say, "About how much do you think we need?" Usually, we'd overestimate how much we needed and spend the entire amount even if it wasn't necessary.
We're more mindful about what we buy. For example, we recently revealed on Periscope (Katch the replay) that we have a set budget of $200 for groceries every month. We allocate this amount because we've found that when we bought in excess of that, we threw away food due to spoilage. Wasting food and wasting money go hand in hand, and we were obviously buying much more than we needed.
It's a constant reminder of our goal. Each time we use cash, it reminds us that there is a bigger picture. Paying down our enormous student loan debt is our financial priority. Our ultimate goal after paying off our debt is to live life on our own terms. So, cash it is!
Now, we admit that there is a caveat. We do swipe our debit card for big ticket items. We also swipe for gas because it is more convenient and we can earn cash back using our membership card at Sam's Club. But, we still budget for those purchases, so we don't overspend.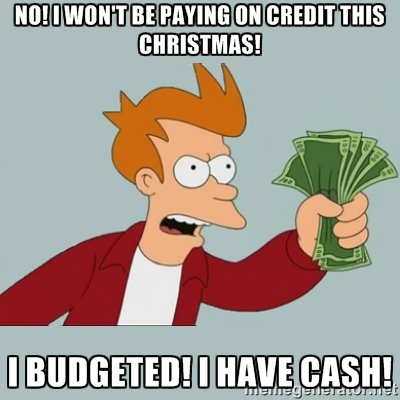 Whether or not you use cash, the take-away point is that when you have a goal that you are aggressively trying to meet, you will tell your money where to go and you'll be less likely to overspend.
The holidays have a way of sneaking up on our bank accounts, but this year, we'll be ready! Will you?